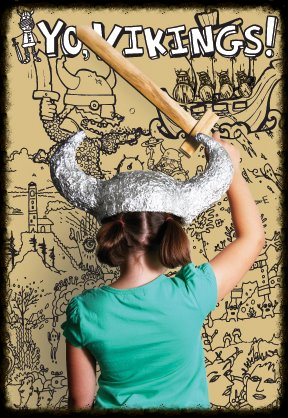 Yo-o-o, Vikings!
Upper Darby Summer Stage, 2010
"World Discovery Day!"
Pittsburgh Playhouse, 2012
Bothvar, the Fork-Splitter
Pittsburgh Playhouse, 2012
The Company
Children's Musical Theatreworks, Fresno 2012
Alyse Alan Louis and company singing
"Emma the Red."
Yo, Vikings!

Emma Katz is a spunky 10-year-old in the Philadelphia suburbs whose constant forays into her imagination (and consequent costume changes) put her at odds with her more conservative friends and family. When Emma's teacher assigns her Erik the Red for her World Discovery Day report, Emma begins to channel her own inner Viking, setting off on a real adventure to change her community for the better. With music by Sam and book and lyrics by award-winning wordsmith Marcus Stevens, the Yo, Vikings! score ranges from rollicking sea shanties and Nordic hymns to fun musical theater jamz.
Yo, Vikings! was originally commissioned by Upper Darby Summer Stage, where it premiered in 2010, followed by productions across the world including The Hangar Theater, Interlochen Center for the Arts, Children's Musical Theaterworks (Fresno, CA), Point Park University, and Emerson College. The show was a finalist for the Richard Rodgers Award (2011) and a Weston Playhouse New Musical Award nominee (2012), was featured in the 2019 HBO documentary Song of Parkland, and is licensed by Samuel French.
Emma The Red
Alyse Alan Louis and Company
The Terrible Tale of Sally Shapiro
Serena Brook, Sam Tedaldi, Alex Wyse and Sam Willmott
Real Adventure
Patricia Noonan